Tickets N Travel
Travel Packing Tips
Best Online Place to Plan a Vacation!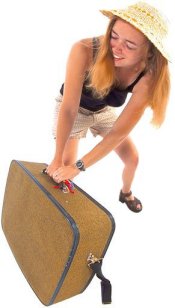 With any type of project you embark on, you must have a plan. It is important to know how and what you are going to pack for your trip. Why would you take sweaters and overcoats to go to the beach, or why pack shorts and golf shirts if you are going on a ski trip? Those questions seem simple, but you should know what to pack and how to pack correctly, so that you have everything that you need for your trip. Before you pack, you should take into consideration;
Where are you going?
What is the weather?
What are you going to do?
How long are you going to be there?
How much shopping am I going to do?
Now that you have all of that decided, it is time to pack. Lay everything out that you want to take on your trip. The next thing that you need to do is, begin to think in terms of what you do not need. The object of packing is to keep it light. Carrying everything with can become a burden. Choose those things that you might be able to wear a couple of times, and for longer trips, go to the laundromat. Packing Tips;
Do not over pack.
Make sure that your luggage can be closed tightly and not open accidently during your travel.
All luggage should be closed and secured tightly.
Check your luggage that it is in operating order. Check all of the zippers and clasps.
Try not to take breakables.
Packing breakables will sure to turn out to be a disaster. If you do have breakables, try to keep them with you where you can keep them safe.
Valuables, photo ID's, and travel documents, should be with you at all times.
You may need these items at a single notice, and it would be terrible if your luggage was able to travel, but you were not.
All of your medications in their original bottles.
Two things here; First, if something was to happen to you and you fell ill, doctors can have knowledge of what you are taking, secondly, if you need a refill you have the knowledge of what you are taking. If you are on many medications, make sure to document what you are taking and when you are taking it. Many foreign foods may sometimes react to your medications, so it is always good to know.
Have a change of clothes and sundries in your carry on bag.
Have one bag that you carry with you that has a change of clothes and some sundries, in case your other bags get lost. Make sure that bag has all of your travel documents, photo id's, valuables, medications, and traveler checks.
Identification inside and out of all of your luggage.
Your complete identification should be put on your luggage. Make sure that the tag is clearly visible and attached securely. Also make sure that you have an identification on the inside of your bag, in case the outside tag gets torn off.
Pack games for the kids.
Traveling with kids can be fun or a your worst nightmare. Make sure that you have plenty for the kids to do, they are not as patient as you are. Pack a couple of games, coloring books, or other fun things to keep them occupied. Make sure to pack a few light snacks and of course, wet wipes.
Have extra room for the shopping.
When you are packing make sure that you leave some room for the shopping excursions. Remember that you have to buy souviners for the neighbor who watched your house, the shirts that remind you of the great trip, all of the things that you can't buy at home, and of course, all the items that your forgot at home and needed.
One of the most important factors of packing, is good luggage to pack in. Make sure that your luggage is in good shape and in working order.


New Luggage at Low Prices
Travel Planning Needs
Passports & Visas
Planning Checklist
Weather Reports
Road Maps
U.S. Government Travel Warnings
Currency Exchange
Airport Security
Bikini Pictures
Travel Calendar
Travel Insurance
Tickets N Travel
Saving You Time and Money in Planning Your Next Vacation!