Tickets N Travel
Ireland Travel
Best Best Ireland Travel Packages On-line!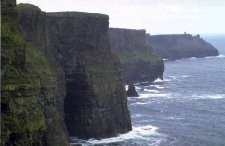 The magical, romantic place, known officially as the Republic of Ireland, has been a favorite vacation destination for ages. From the Blarney Stone to the Book of Kells, the Emerald Island never fails to bewitch even the most seasoned traveler. Ireland is roughly half the size of New York State and was simply made for driving. The fabulous interior, the gentle hills that ring the country, and the dazzling, scenic coastline can all be reached easily with a four-wheeled drive vehicle. The nation of about 3.5 million people is home to 26 counties, all with their own flavor. The counties and the capital city, Dublin, make up the 6 regions of Ireland: North West, Ireland West, Midlands East, Shannon, South East, and South West.

The people of the Emerald Isle are known for their traditional welcomes, generous hospitality, and inclusive spirit. Become part of a large extended family as you enter their pubs and be swept up into the convivial atmosphere that makes Ireland unique among its European neighbors. Try some of James Joyce's old haunts in Essential Dublin. And if you're looking for exercise other than the Guinnes arm curl, consider that some of Europe's best horseback riding, angling, cycling, and hiking is located in compact Ireland. For a little golf, check out Dublin, Limerick, and Waterford with our Headlands, Parklands, and Sandy Shores vacation.
Go out for an Irish "look about" and marvel at Ireland's dramatic, natural beauty and the curious ruins that point to its mythic past. After dark, Ireland delivers everything you need for an unforgettable evening: music, laughter, a pint of Guinness, or a cup of Irish coffee.
Enjoy the Infectious Spirit and Generous Hospitality on your next Ireland Travel Package --
Click Here
Ireland Travel!
Land of "saints and scholars," catching sprites
and chasing rainbows!
Travel Planning Needs
Passports & Visas
Planning Checklist
Weather Reports
Road Maps
U.S. Government Travel Warnings
Currency Exchange
Airport Security
Bikini Pictures
Travel Calendar
Travel Insurance
Tickets N Travel
Saving You Time and Money in Planning Your Next Vacation!